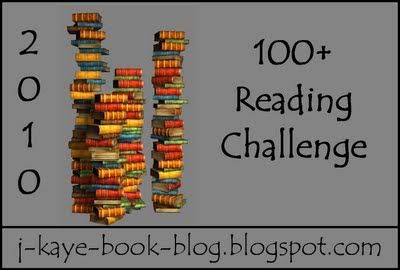 I decided to take a challenge. A reading challenge. 100 + books in 2010.
The challenge is sponsored by
J. Kaye's Book Blog
. I'm fairly certain I can complete this challenge. We shall see.
The books I read for this challenge will be listed in the post below. I will be adding as I go -- I'm working on the 1st one right now!
1. Homeplace by Dorothy Garlock (Re-read)

2. Blood game by Iris Johansen (New)

3. Fired up by Jayne Ann Krentz (New)

4. Sizzle by Julie Garwood (New)

5. Memoirs of a teenage amnesiac by Gabrielle Zevin (New / Audio book)

6. Anges and the hitman by Jennifer Crusie & Bob Mayer (Re-read)

7. Hunger games by Suzanne Collins (New)

8. Blood ties by Kay Hooper (New)

9. Catching fire by Suzanne Collins (New)

10. Hacking Harvard by Robin Wasserman (New)

11. The compound by S.A. Bodeen (New/Audiobook)

12. Devil's web by Mary Balogh (New)

13. The year we disappeared: a father-daughter memoir by John & Cylin Busby (New)

14. Fantasy in death by J. D. Robb (New)
15. Summer of the midnight sun by Tracie Peterson (New)
16. Wild ride by Jennifer Crusie & Bob Mayer (New)
17. The Spellmans strike again by Lisa Lutz (New)
18. Bet me by Jennifer Crusie (Re-read)
19. Shattered by Karen Robards (New)
20. Without mercy by Lisa Jackson (New)
21. Mr. Parker Pyne, detective by Agatha Christie (New)
22. Burning lamp by Amanda Quick (New)
23. The disreputable history of Frankie Landau Banks by E. Lockhart (New)
24. Eight days to live by Iris Johansen (New)
MOVED PAGE (please click here)